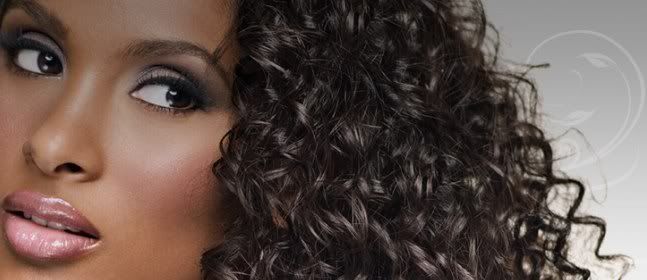 They say "you are what you eat," but when it comes to our hair, personal style offers a twist on this popular statement, so remember, "What you put on your head, should represent what you want to be said." In an era where beauty is defined by individuality, to achieve the best inner reflection when it comes to your hair, you may want to select a brand that'll keep you rockin' with the human race, and steer clear of a mane that resembles Pamplona and the Running of the Bulls. Our mama's always taught us to opt to be more than average, so in order to maintain that atypical appeal, through the aid of Virgin Indian Remy Hair, the solution is now as easy as the flick of your hair.
The average hair on the market doesn't entirely reflect that chemical free luster from the days of hot combs and ear holding that was achieved via the kitchen stove when we pressed our virgin hair and let it flow natural. Instead, it's made up of synthetic fibers and animal hair and most often the animal mane is courtesy of the hair from a Yak. The average human hair lacks an au natural appeal and is a blend of both Chinese and Indian Non-Remy meaning it's cuticles run both up and down, and divert from the single direction achieved solely by our own natural tresses or by Remy Hair. It's stripped in an acid wash to reduce the tangling effect, and then coated in silicone to create a temporary shine. After several washes, the silicone is rinsed away, and within a 2 to 3 week period, it's ease and sheen quickly transitions to mattes and tangles and becomes prematurely dry and hard to maintain through the projected length of the typical style.
With the use of Virgin Indian Remy Hair, beauty is now just an exhale away. Remy hair is pure and not mixed with synthetic fibers, Yaks, or other mountain breed creatures that perpetrate the gloss of normal human hair. It's the perfect reflection of our lovely obsession: natural looking beautiful human hair. All cuticles are intact and run in an identical course from root to end, and by being sewn on the weft in the same direction as natural hair growth, the result is an effortless body and bounce that best represents the desired look you want to achieve. It's lightweight and heavily bodied and takes a lot less hair to attain a look that's naturally full and free. By remaining silicone free and 100% pure, after several washes, the hair never loses its vibrant bounce, luster or beauty. With a hair life expectancy beyond 12 months, you'll save on money and fuss and finally inherit sheer satisfaction.
For more information about Virgin Indian Remy Hair and Indique Hair please visitwww.indiquehair.com.